How To: Bitcoin Wallet 
Getting a bitcoin wallet is super simple. The first thing  you will need is to create a Yellow Card account. Once you have an account created, you are ready to go. Let's walk you through on why you need one, how to send & receive bitcoins and how you can keep your wallet safe.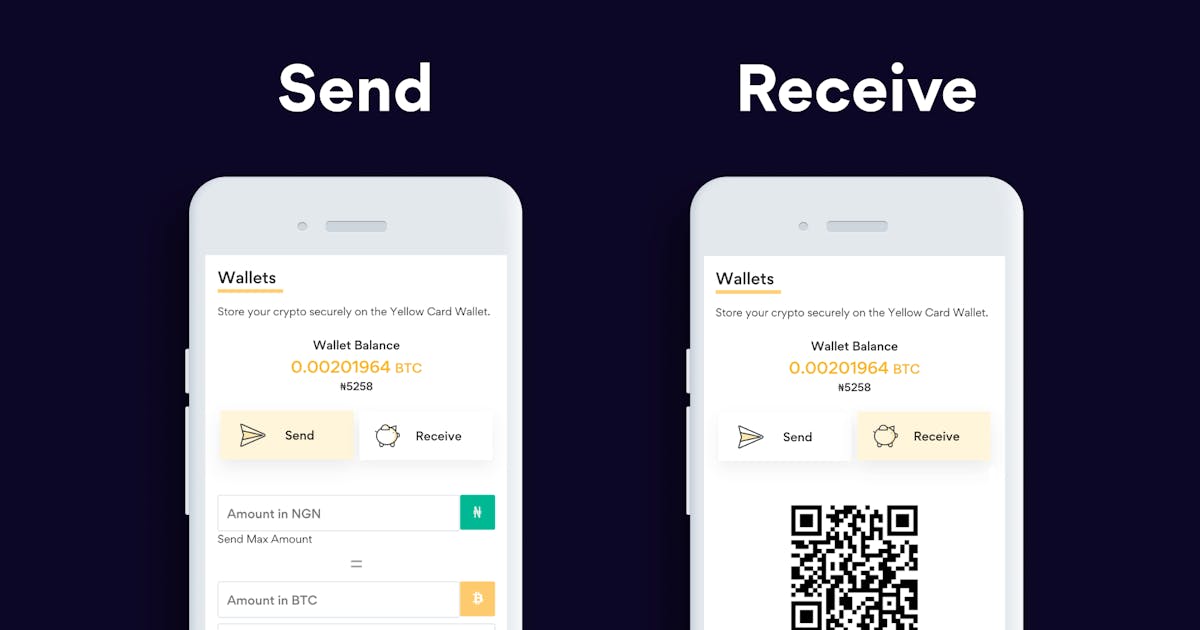 Cool things you can do with your Yellow card Wallet?
A lot of people ask why they need a wallet. Great question, when you buy Bitcoin on the platform it is automatically stored in your wallet. Think of it like a safe house. This wallet allows you to send Bitcoin to friends or family when needed. The awesome thing about this wallet is that, each person has a unique wallet address, you can receive Bitcoin from anyone. The wallet page shows you all your recent and existing transaction history, so you know exactly when you send and receive Bitcoin.
Sending Bitcoin is simple with the Yellow Card Wallet.
Start by visiting the wallet page. 
Click on the send button, you will be given the option to enter in the amount you would like to send or you can select send max, which sends all the Bitcoin you have. You can choose to enter the amount in naira or Bitcoin. 
The next step is to set your send priority. The higher the priority you select, the faster the transfer. 
Now you are ready to send the Bitcoin. You can either send it to a specified Wallet address, or directly to their phone number (only works when they have a Yellow Card account). You can get them to open a Yellow card account if you find this feature convenient. 
To view the transaction details after you send, select the history section of the wallet page and Viola!
What about the process of receiving bitcoin?
It's way easier! Follow through, we've got you covered.
Start by visiting your wallet page.
Click on the receive button. You will see a QR code and your wallet address. 
Click the copy button. This enables you to copy your wallet address, which you can share with the Bitcoin sender. 
To confirm you have received your bitcoin, You will get a notification in your wallet. 
Safety tips to ensure your Bitcoin is safe.
We know your bitcoin is precious, we wouldn't let you go without a few tips on how to keep them safe in your wallet. Here are 5 safety tips curated with love from us.
Watch out for phishing scams 
Phishing scams are a common technique used by hackers to spoof a website, then steal your data when you enter it. Be sure that you are on the correct link or the official app before entering your information. You can also use a browser extension like Phishfort, to detect if you are on the official site. 
Keep your device protected
Be careful not to install any software you don't trust. Also, avoid downloading any suspicious documents or attachments. Do your research before you download any software you are unsure of. Do routine antivirus scans and make sure to have your firewall enabled. 
Enable two-factor authentication 
Two-factor authentication (2FA)  adds another layer of security on your account. It enables account owners which is you, verify a login attempt. To set up a 2FA you will need your mobile number or email address. Just having your password would not be enough to access your account, a random pin would also have to be entered. This makes it a lot harder for a hacker to access your account. 
Use difficult password 
It is important to create a very strong password when creating an account on a crypto exchange platform. Use a combination of lower and upper case letters, numbers, and symbols. You can also make use of mnemonics to fashion and recollect super-secured passwords. Be sure to store your password in a safe place and change them frequently.
Avoid public WiFi
Wifi hosts can potentially collect data transmitted over the network, this includes passwords and sensitive information. Public WiFis are unsecured wireless network with no encryption, which makes it unsafe.  If you are accessing your wallet from a public network, we recommend you use a VPN.