How To: Referral Program
Why we have a referral program
At Yellow Card, we believe that using our platform should be rewarding. Referring your friends to our platform should come with benefits. We have decided to give 20% of trading fees to you whenever you invite a friend and they buy or sell crypto.
How do you get your Referral Link?
Every Yellow Card users has their own referral link. This link can be found on your referral page online or on our app. To find it online or in-app, follow these steps:
Log into your Yellow Card Account
Click Referral on the Dashboard home.
Click the link to copy it and share it with friends. You can also click share to send your referral link through WhatsApp. 
Your referral will auto will your referral code on the signup page when clicked on. When your friends sign up using that code you will receive the credit for their buys and sells.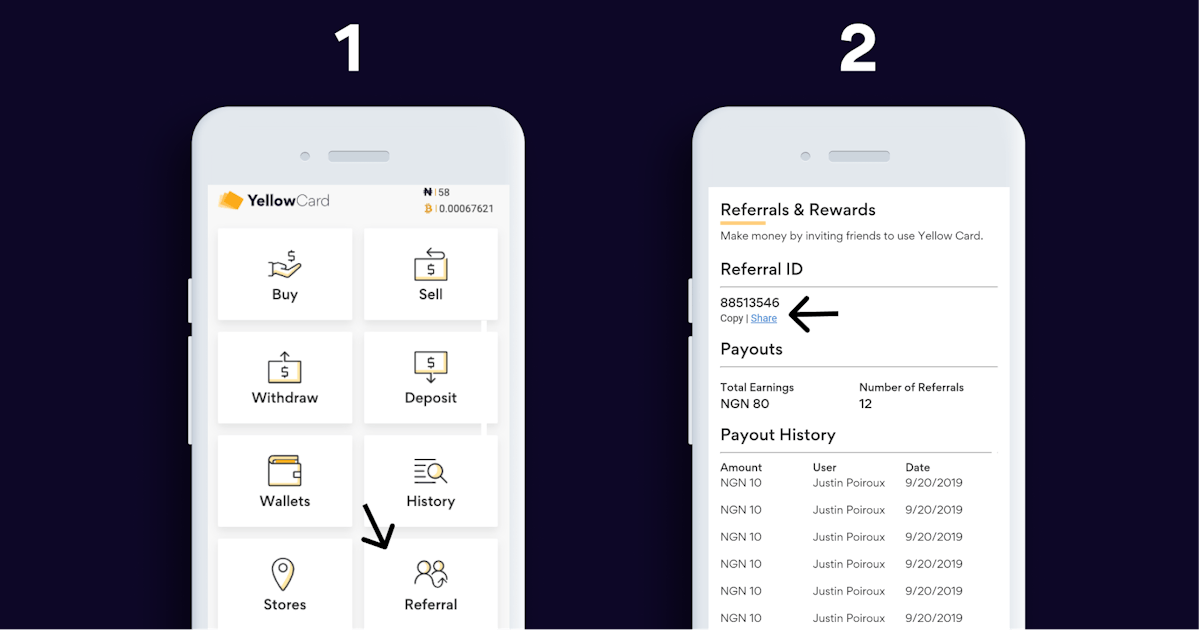 How much can you earn from referrals?
When a friend signs up with your code and they buy or sell you get 20% of the fees paid. You can view all your earings on the referral dashboard. There you can see the total amount earned from referrals, the number of referrals you have, and a breakdown of each payout from a referral. Your referral bonus is automatically added to your Yellow Credit balance, so no waiting for your earnings. Share your referral code today and see how much you can earn! 
A referral is only paid out if the person you referred buys or sells. 
How to make more from Referrals
Here are two easy ways to increase your referral earnings: 
Share your referral link on social media and WhatsApp. 
Post your referral link on your social media profile. 
To get people to use your link create a fun and encouraging message. You should also let them know they earn by sending out their referral link after signing up.  
Here an example of something you could say: Want to get cash for your crypto instantly, sign up with my link and start trading today! 
Another option is to add your referral link to your social profiles. You can add the link to your Instagram, Facebook, and Twitter profiles.