How to spot crypto scams and avoid them

As cryptocurrency grows in popularity among average citizens, scammers have also turned to crypto as their latest way of stealing people's money
While it is exciting that millions of people can gain financial freedom using cryptocurrencies such as bitcoin (BTC) as a hedge against fiat currencies, and even US Dollar-backed stablecoins like Tether (USDT) to develop a strong savings culture on a continent where what your Naira can buy decreases daily.
On the other hand, it poses a concern for legitimate businesses and institutions that are committed to aiding the wide and fast adoption of cryptocurrencies across Africa. As companies like Yellow Card work to bring crypto to everyone, unsuspecting people who are interested in crypto can easily become victims of the numerous scams out there that fly under the guise of cryptocurrency.
To help mitigate this and protect our users, we are going to show you in this post how to spot cryptocurrency scams, avoid them and protect yourself for the future.
What are cryptocurrency scams?
Cryptocurrency scams are fraudulent schemes designed to rob people of their cryptocurrency or fiat currency in fake cryptocurrency deals. Basically, cryptocurrency scams are just regular scams that target a crypto community.
These scams can be broadly categorised into 3 types based on their mode of operation:
1. Phishing scams
2. Investment scams
3. Social media scams
What are phishing scams?
Phishing scams are designed to trick you into giving your personal information to scammers with which they can gain access to your cryptocurrency wallets and steal your funds. These type of scams usually use a technique known as spoofing.
Spoofing involves disguising an email address, website URL or phone number by changing a letter, symbol or number in an attempt to deceive you that you are interacting with a legitimate company.
How to spot phishing scams
Phishing scams are perpetrated by scammers in various ways. Some include:
Emails
SMS
Telegram/WhatsApp
Website
Email
While Yellow Card's support email is support@yellowcard.io, a phisher might disguise themself by sending you an email from support@yellowcard.xyz or yellowcardcenter@gmail.com. Make sure you ONLY mail support@yellowcard.io for legitimate Yellow Card Customer Support.
The aim of such an email is to get you to either send your personal details in response to the mail or click on a malicious link that is part of an elaborate scam.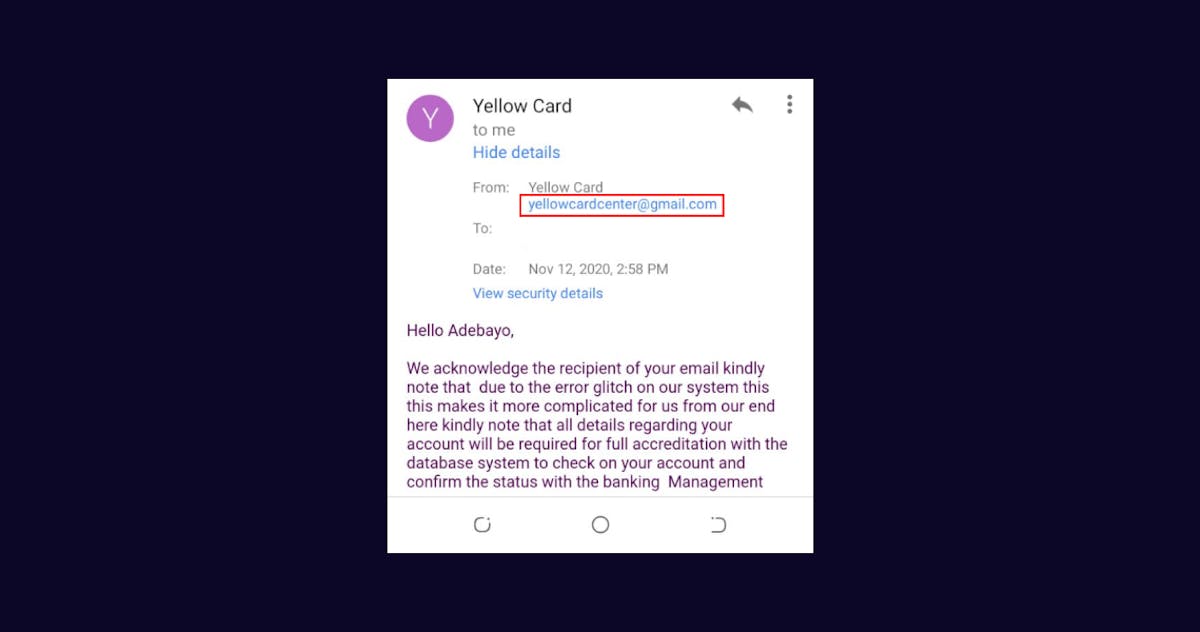 Example of phishing email
What to note
You should note that all email from us will come from our domain - @yellowcard.io. Any email that isn't from this domain is not from Yellow Card and should be deleted immediately.
SMS
You may receive a text message that looks like it was sent from Yellow Card but isn't. Usually, these text messages invite you to click a link to win a prize or stop an authorised transaction on your account.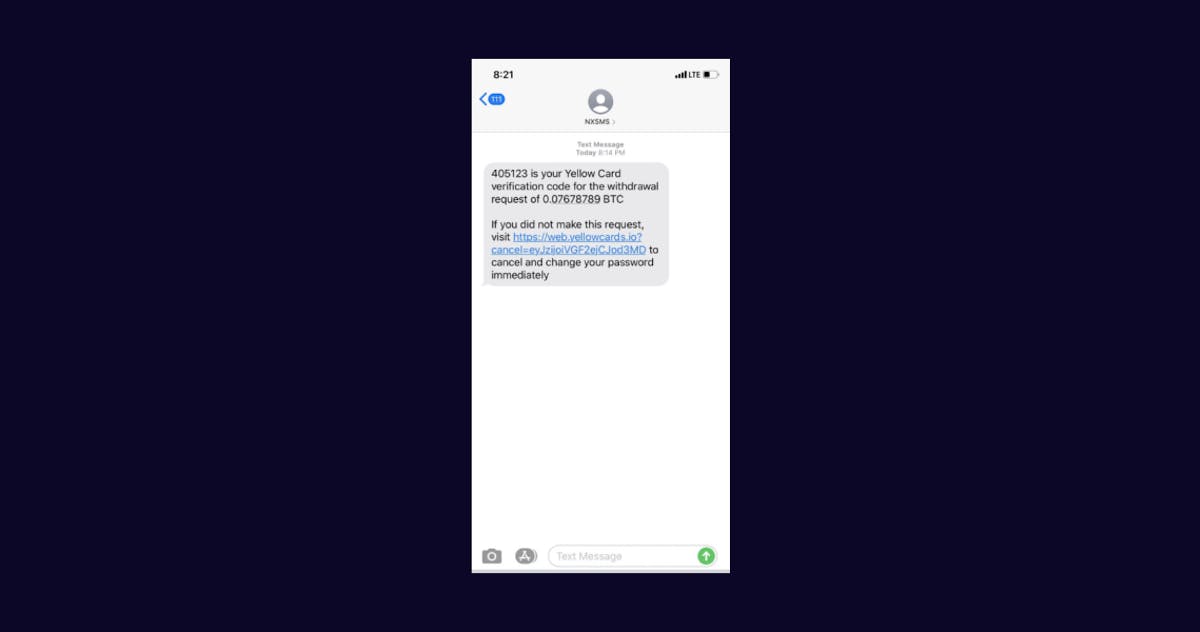 Example of phishing text message
What to note
Yellow Card does not send out text messages to verify transactions on your account. To ensure only you can perform transactions on your account, we have added Transaction PIN to Yellow Card 2.0 which is a 4-digit pin that authorises external transactions from your account. This PIN should never be shared with anyone else.

Also, take note of any link you receive via email or SMS before clicking on it as this may download an unwanted file that grants scammers access to your device or lead you to a fake website.
Telegram
Telegram is a social messaging platform that allows communities to stay in touch, pass useful information and help one another. However, scammers have turned to this platform to prey on members of crypto communities by sending phishing messages to them.
These messages usually offer unsolicited assistance and request for your personal information such as your Yellow Card account phone number, email address or password.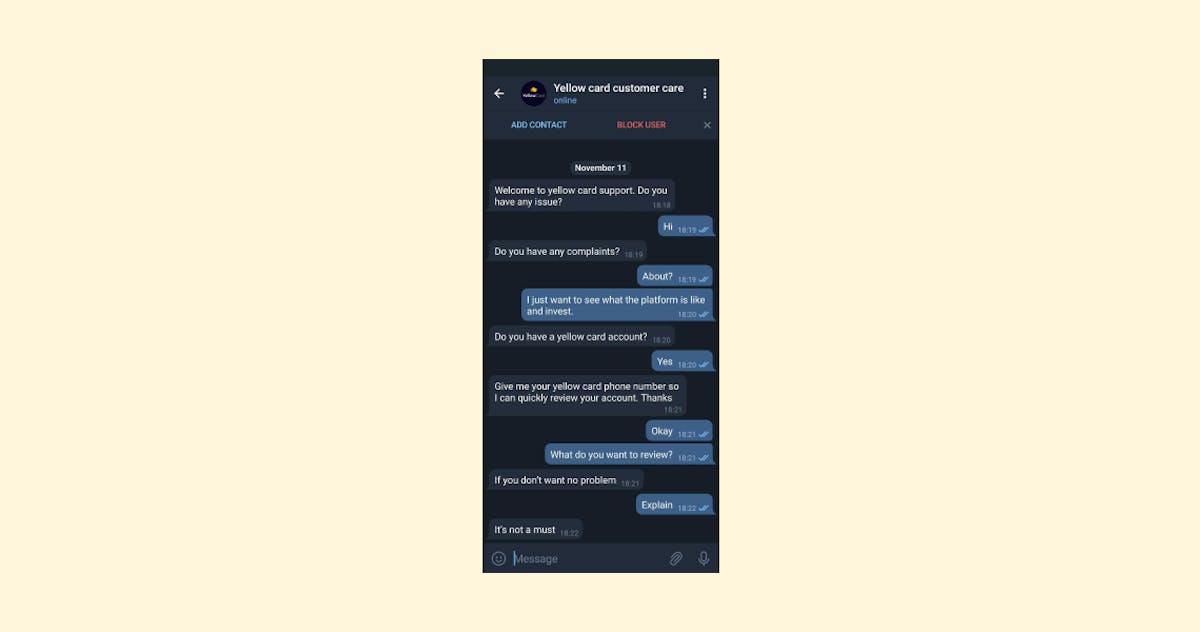 Fake Yellow Card customer support on Telegram
What to note
Yellow Card does not offer support on Telegram. To get assistance from Yellow Card support send an email to support@yellowcard.io or use the Live Chat on the Yellow Card Website.

Regardless of the platform, we will not offer unsolicited help nor would we request for your personal details. Any assistance you will get from an employee of Yellow Card will be from an official channel.
Website
Scammers go to great lengths to design websites that mirror a legitimate site and direct unsuspecting users to such fake sites via emails, SMS or social media. They then collect sensitive information when users interact with these fake sites.
Such websites have URLs that closely look like the real website's. For example, any webpage on any domain other than yellowcard.io is most likely a phishing site, no matter how closely it resembles our website just like in the example below.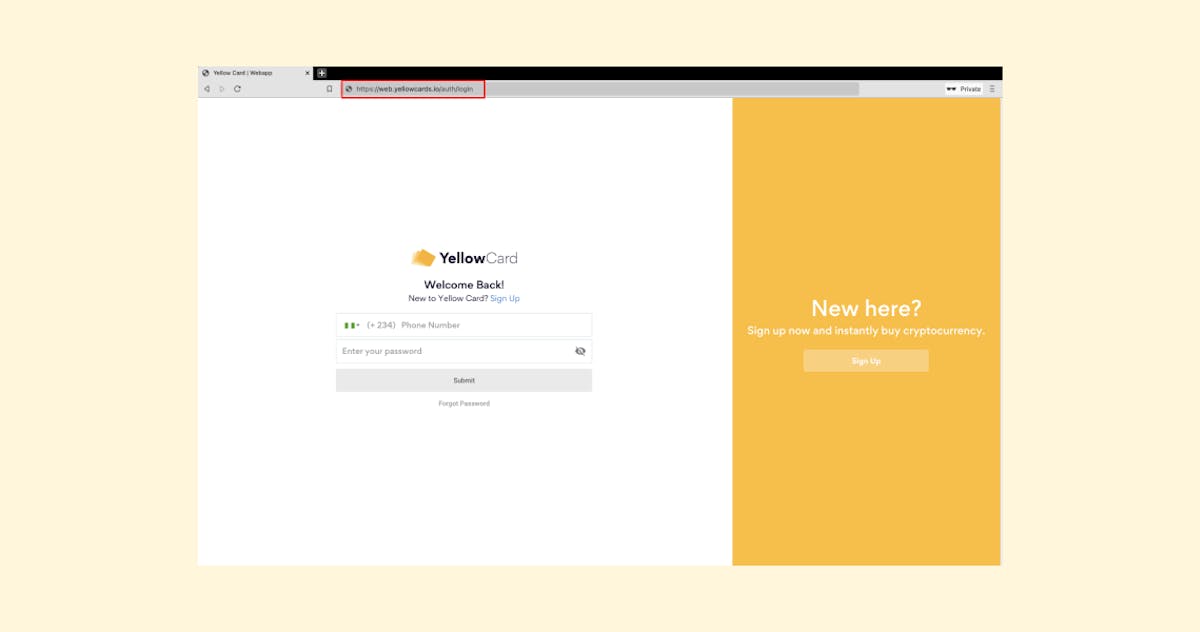 Example of fake website
What to note
Paying close attention to the URL will show that it is web.yellowcards.io. This is a fake site. Our website URL is yellowcard.io and our web app URL is web.yellowcard.io. Any variation no matter how small could lead to a phishing site.

If you find yourself on a phishing website, close the tab immediately and do not share any sensitive information on it.
Learn more about phishing and how to avoid them.
What are investment scams?
Investment scam is another popular type of crypto scam. It involves selling purported cryptocurrency assets to people. 
A scammer may claim that there is a new cryptocurrency that is about to go live and is expected to be "the new Bitcoin". In exchange for shares of the said company, you would be asked to pay or buy non-existent tokens of the new project. Some big examples in Africa have been OneCoin, HeritageCoin, OnyxCoin, and other Multi-Level Marketing schemes using cryptocurrencies as a tool to attract investment, without really having any legitimate technology behind it.
Most times, investment scams come with a supposed legitimate investment opportunity that has a very high Return on Investment (ROI) for little to no risk. You will find that many of such claims are not true and there is no actual cryptocurrency involved in such investments. Some times, Multi-Level Marketing (MLM) Schemes such as pyramid schemes or Ponzi schemes are disguised as crypto investments.
How to spot a Ponzi or Pyramid scheme
There is an important rule in investment that says: if it sounds too good to be true, then it most likely is.
What this means is that when you hear of returns or any part of a deal that sounds too good to be true, more often than not it is not true.
Also, a pyramid scheme requires that you invite someone known as your "downline" to invest before you can get paid. This is how pyramid schemes work - people involved in the scheme are paid with money put in by other members of the scheme.
What to note
Yellow Card is not an investment scheme. We never offer investments or investment advice of any kind. Yellow Card is a cryptocurrency exchange where you can personally buy, sell or store cryptocurrency. We always list supported cryptocurrencies on our website and wallet.

If anyone tells you to pay them to invest in a cryptocurrency on Yellow Card on your behalf, they are scammers and are not employees of Yellow Card -- do not send your money to them.

Only buy or sell cryptocurrency directly through a Yellow Card account you have created yourself.

When depositing money in your Yellow Card account, only ever use your personal phone number as your Reference Code to make sure your money goes straight to you.

While Yellow Card encourages you to invite your friends and family to use the Yellow Card App, this only earns you a referral bonus which in no way affects your funds on Yellow Card. You do not have to invite someone to get your money or crypto from your account.
You can read more about Ponzi and Pyramid schemes and how to avoid them.
What are Social Media scams?
Social media scams are generally scams that are perpetrated on social platforms. The most popular social media scam associated with cryptocurrency is the giveaway scam.
Giveaway scams trick you to send cryptocurrency to an address as part of an ongoing promo by a reputable company or individual. In exchange for sending your cryptocurrency, you will be promised double or triple of whatever you send, or any other such prize.
A popular scam of that nature recently happened on Twitter where the Twitter accounts of notable people and organisations including Barack Obama, Elon Musk, Apple and Bill Gates were hacked and tweets promoting bitcoin scams were sent out.
Scammers also create fake profiles or groups on social media in order to get people to interact with them and get their account information or their funds from them.
What to note
No Yellow Card employee will ask you for your personal details on social media regardless of any issue you are having. Always contact Yellow Card support directly via support@yellowcard.io when in need of help; do not accept unsolicited assistance on social media.


Block any message from a Yellow Card agent or support on social media immediately and report the account.

Only engage with the real Yellow Card accounts on social media
Twitter - @yellowcard_app
Instagram - @yellowcard_app
Facebook - @yellowcardapp
Follow us on these channels and confirm any giveaway you see is posted by these accounts.
Please note that we will never ask you to send us any crypto to win in any of our giveaways. Whenever in doubt, Yellow card contact directly to confirm any information.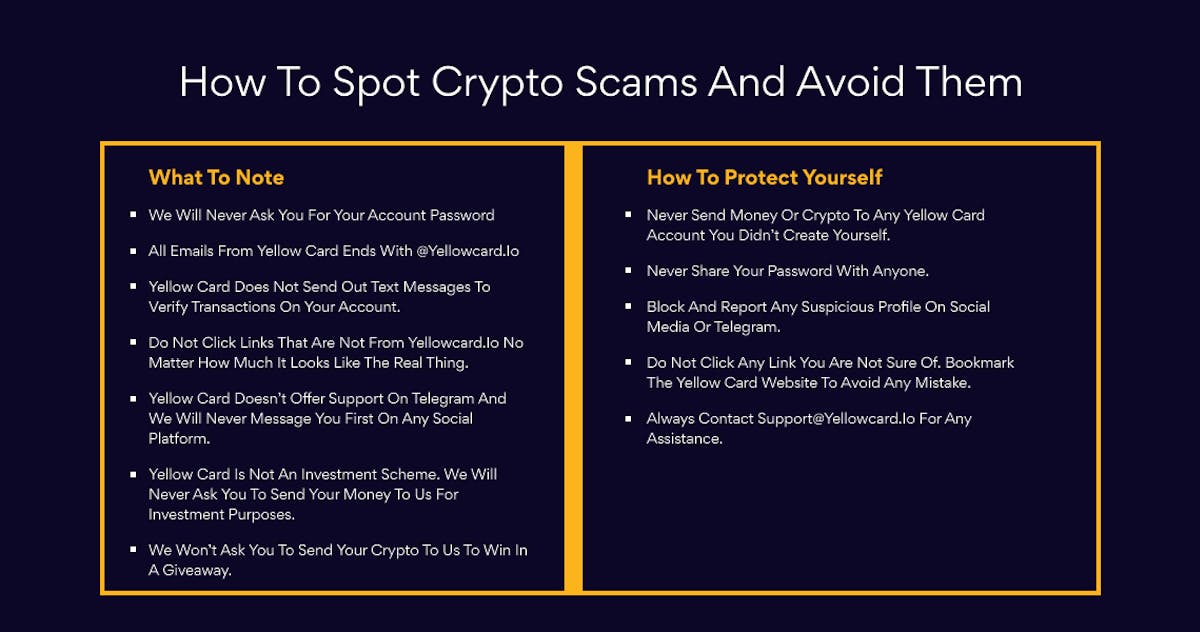 Ways to avoid cryptocurrency scams online
Never share your personal information with anyone. This includes your account password, OTPs, account email address or phone number.

When you receive an email, text message or social message from an unknown person asking for your personal information, do not reply. Instead, block and report them.

Before deciding to invest in anything online, read extensively and confirm that the business is who they say they are. Always remember that if it sounds too good to be true, then it most likely is.

Do not send your money or crypto to anyone to invest on your behalf. Yellow Card is not an investment scheme.

Do not click suspicious links online. Utilizing your browser's bookmark function to access Yellow Card's websites is a good way to safeguard any URL typos. 

Only engage with the real Yellow Card account online.

Whenever in doubt, contact support@yellowcard.io.