Yellow Card Update: New Features
We have been hard at work over the last few months to bring five new exciting features to the platform. Thank you to our loyal users who have stuck with us and have patiently waited for the release. Honestly, it wasn't easy trying to release them all the same time, our development team had many late nights working on this project. This was our first major product update since launch, and taking on a project of this scale we learned a lot. Taking what we learned we will continue to improve and provide the best product for our users.
What's New on Yellow Card?
Bitcoin Wallets
Credit/Debit Card Deposits
Get Cash for Crypto
Merchant app
Referral Program
Bitcoin Wallets
You now have a place to store all the Bitcoin you buy on the Yellow Card platform. Our Bitcoin wallet allows you to send, receive, and store the Bitcoin. Now you show off all the Bitcoin you hold to your friends, and if you want to send to a friend's Yellow Card wallet there are ZERO fees. In the future, we'll work on an update that will allow you to store other cryptos in your wallet.
Card Deposit
Time is money, so we added credit and debit card deposits to instantly fund your account. You can add your card of choice, then buy your desired cryptocurrency. Currently, this is only available for Nigeria, but we will be opening it up to other countries soon.
Cash Out
One of our most requested features is here! You can now cash out your crypto or Yellow credit and receive a bank transfer or cash at a local merchant. Our goal has always been to build a platform that would be inclusive to everyone, and this is a big milestone in accomplishing that. Now a family member from another country can send you Bitcoin and you can instantly convert it to naira - no bank account required.
Merchant App
One of the most common we get is "How can I make money on your platform?" To everyone who has asked - now you can! You can now earn money by selling Bitcoin in your community as a merchant, this can add an additional revenue stream for yourself and your business through commissions and incentives. To get started visit yellowcard.io/merchant to sign up. Once approved you will have access to merchant features in the app and online.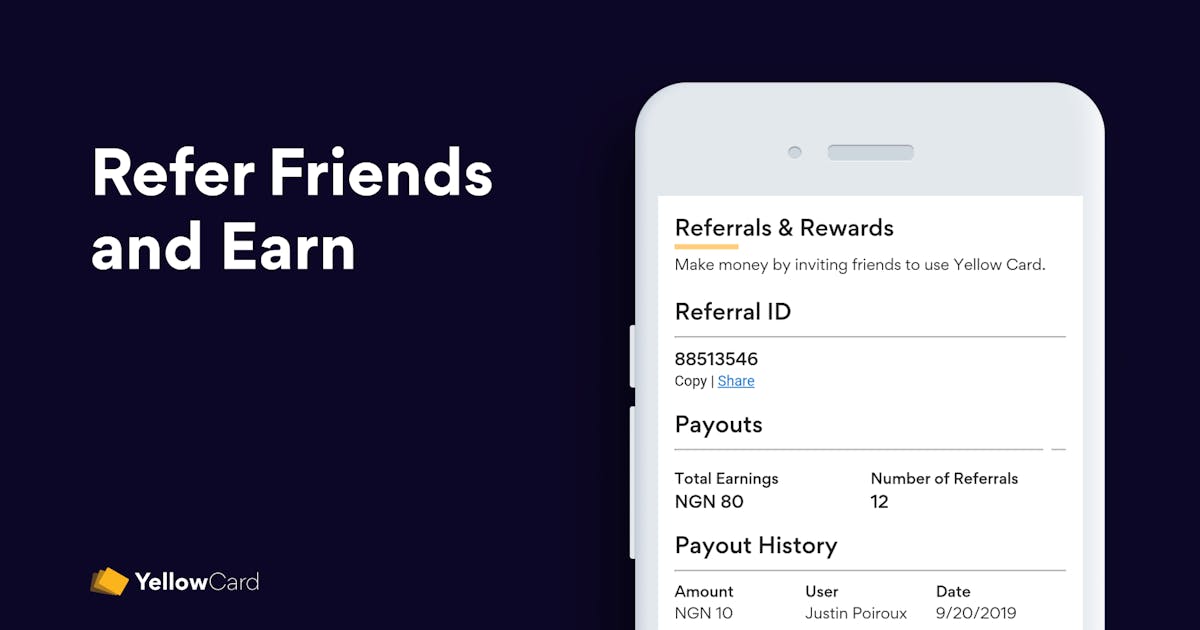 Referral Program
At Yellow Card, we believe that using our platform should be rewarding. Referring your friends to our platform should come with benefits. We have decided to give 20% of trading fees to you whenever you invite a friend and they buy or sell crypto.
How do you get your Referral Link?
Every Yellow Card users have their own referral link. This link can be found on your referral page online or on our app. To find it online or in-app, follow these steps
Log into your Yellow Card Account
Click Referral on the Dashboard home.
Click the link to copy it and share it with friends.
When your friends sign up using that code you will receive the credit for their buys and sells.
Are there any extra features you'd love to see on Yellow Card? Send us an email at hello@yellowcard.io, we might include it in our next feature update. You can also check out the Frequently asked questions on our website.